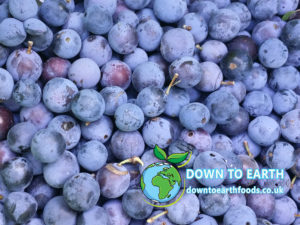 As Autumn arrives, thoughts turn to winter nights by the fire, maybe crisp cold mornings walks across the hills – maybe a little homemade winter tipple to warm you up!  Sloe Gin is one of the favourites – in fact the location of a good Sloe bush is often a closely guarded secret, with missions to gather planned with military precision and planning!
One of my Down To Earth shop customers, or more accurately – one of my D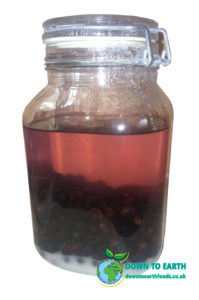 own To Earth friends arrived last night with a carrier bag of beautiful sloes – what joy! His name will be kept anonymous to protect his identity – and more important his supply of sloes!  As with Damson Gin, Sloe Gin is easy to make, and easy to drink! Don't skimp on the gin, but likewise don't go overboard – a decent mid-range bottle will do quite nicely.  There are plenty of recipes out there, but the basics of a Sloe Gin recipe are very similar – remember as every good chef will tell you, you can add seasoning but can't remove – the same goes for the amount of sugar you add to your Sloe Gin mix.
As with my old favourite, Damson Gin, use good quality fruit – throw away any marked or damaged berries.  Remove the little stalks and the inevitable few leaves from your collection.  Wash the fruit, then prick each sloe and few times with a needle or cocktail stick.  After measuring, sterilise with boiling water a suitable kilner jar, and place the sloes into it.  Add the sugar and the gin, give it a shake and place it into a dark cupboard – easy!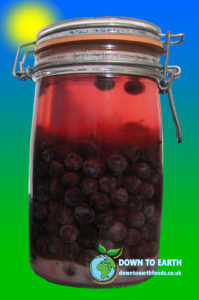 Exactly the same as making Damson Gin, a lot of people clean their fruit, then freeze it.  This has a two-fold advantage – make the Sloe Gin at a time that suits you.  The other aspect, is that the sloes will split a little when thawing, releasing the juices and flavours – no need to prick the sloes before making your Sloe Gin.  Give your jar a gentle swirl on a daily basis to mix the sloes, the sugar and the gin.  This will only take a week or so, after that just leave it in a dark cupboard to allow the flavour and colour to develop.  Give it an occasional swirl to mix up.  After three or four months your Sloe Gin will be ready to try – does it need a little more sugar?  Try it and see.  If you are happy, decant back in to your original gin bottle.  There is no problem in leaving for a few months to mature further.  When you are ready simply decant and enjoy – some people like to strain through a muslin cloth – you will tell when looking if you need to do this.  Damson Gin or Sloe Gin, whatever your tipple, savour it, enjoy it, and share it – but not too much!
INGREDIENTS FOR SLOE GIN

550g of fresh sloes
250g of granulated sugar
1L of gin