This is a recipe to behold! Warming in the winter, and subtly spiced with just the right amount of herbs and spices, this soup will have your family coming back for more!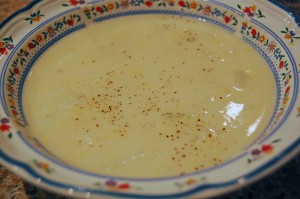 Spiced Cauliflower Soup Ingredients
1 Large Cauliflower, cut into small florets
1 tsp of Ground Cumin
1 tsp of Ground Coriander
1/2 tsp of Ground Cinnamon
2 Spring Onions, roughly chopped
1 Handful of Flaked Almonds, toasted
1 tbsp of Mango Chutney
850ml of Vegetable Stock
Spiced Cauliflower Soup Recipe Cooking Method
Fry the Cumin, Coriander and Cinnamon in a little oil for a minute, add the cauliflower, spring onions, toasted flaked almonds, vegetable stock and mango chutney.
Bring back to the boil, reduce heat, cover and simmer for 20-30 minutes, or until the cauliflower is tender – whizz in the blender until smooth.
Season to taste and enjoy!