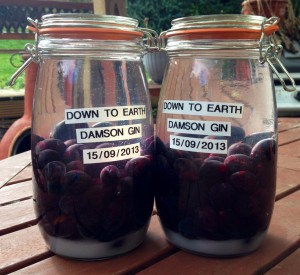 Whilst wild-foraged damsons are sometimes hard to find – there are an estimated 30 wild plum tress to every wild damson – they are now available in store, at Down To Earth, Selkirk. Sloe Gin has has always been a highly popular tipple for the end of the year, but Damson Gin offers something that bit special. So simple to make, but like that jar of Sloe Gin in the cupboard, so tempting to taste…. Leave it to mature!!!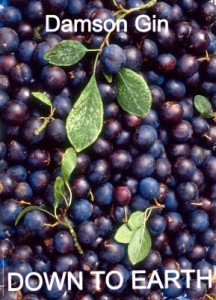 There are various damson gin recipes, but the basics are the same. Some people prefer a much sweeter, more syrupy damson gin and add more sugar. I prefer the recipe below. Use good quality damsons, discard any bashed or bruised fruit. The gin does not have to be the most expensive, a decent mid-range bottle will do fine. Use a demi-john with a stopper, or wide neck lever locking jar – these can be picked up from most hardware stores, or decent supermarkets. Wash and check your damsons, remove the little stalks, then prick several times with a cocktail stick. For a faster way to do this, you could simply wash and freeze the fruit, then thaw and use. This process will help to split the skins on the damsons. Make sure you have sterilised your jar properly. After weighing, place the damson fruit into the jar, add the sugar and then the gin. Simple.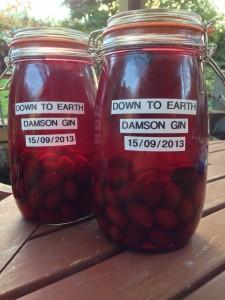 Give the jar a swirl every day until the sugar has fully dissolved. Cover the jar or place in a dark place – this will help keep the colour of the damsons, and give your damson gin a wonderful rich colour. Leave it for a minimum of three to four months, testing every month or so to see if a little more sugar is required. This wonderful damson gin concoction can be kept for almost a year, much longer than that and the fruit will disintegrate too much and spoil the taste of the liqueur. By Christmas the damson gin will be superb, and ready to savour with friends. Sample the damson gin from your jar now and then, when you are happy with the result, strain through a muslin cloth and re-bottle the damson gin. To be honest it's pretty easy, your damson gin will be naturally clear and a beautiful rich colour, it wouldn't be the first time that I've poured it straight into a jug then directly into a hip-flask!
What do you do with the damsons after bottling? Try a decadently rich Damson Crumble, some people even boil up into jams or preserves, but for me, I'm just delighted to sample the Damson Gin!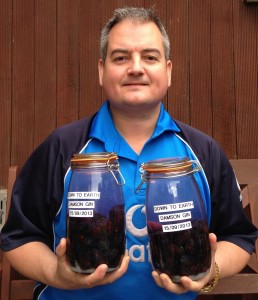 INGREDIENTS FOR DAMSON GIN

550g of fresh damsons
250g of granulated sugar
1L of gin
Top Tip! Keep your empty gin bottle to decant your damson gin back into the bottle – there's nothing worse than scrambling around for a bottle when your are ready to strain and decant!
Nothing much beats a cold winter day, warmming in front of the fire, accompanied by friends or family. The perfect accompaniment is a little tipple of Damson Gin – Savour & Enjoy!